New Author Spotlight Interview: June Smalls


June Smalls
June's Bio:
I'm a writer with a soft spot for animals (all of them), music (I'm a mediocre but enthusiastic singer), art (even though I can't draw), and nature. I write books for children. Some are goofy, some are educational, and some send words dancing across the pages.
Q1: Who were your biggest literary influences growing up?
I read everything I could as a kid. We didn't always have neighbors or cable, and back then no one had a computer in there house, so books were my window to the world. I devoured anything with a horse on the cover, or kids alone on islands, or funny stories with falling skies and talking cheese.
Really, my biggest literary influences were the patient and knowledgeable librarians who constantly handed me books that they knew I'd love and the teachers who read aloud in class.
Q2: Which do you feel is harder as an Author—writing, or querying? Why?
Writing is challenging, especially picture books. You have to create a story that entertains, educates, has a complete arc or story line, memorable characters, words that sing, BUT try to keep it under 500 words if possible. Sometimes I spend days finding the right sentence or even just the right word.
Querying is its own monster. I spent more than a decade in sales so I'm fine with creating a pitch, but querying took so much time away from the creative side. Time to research agents and the market, personalize a query, perfect the query (again giving a ton of information in as few words as possible), and tracking it all. I personally think querying is harder.
Q3: What is your favorite genre(s) to read in your free time?
I read across ages and genres. Picture books…all of them, animal savvy chapter books, adventurous middle grade, adult historical romance or fantasy. It just depends on my mood and what I'm working on. But humor is always appreciated.
Q4: What book are you most looking forward to reading in 2018?
I'm always ready to read the next Wings of Fire in Middle Grade. DRAGONS people! AMAZING DRAGONS!
For picture books, I am curious to read The Rabbit Listened and I am Enough.
Q5: If you had to choose 1 literary character to have dinner with, who would it be, and what/where would you choose to go?
Hmm. Sherlock Holmes would be cool, but bad things always happen around him. I'd like to meet the Mad Hatter, but I'm not a fan of tea.
I think I'd have to meet Mary Poppins. I sort of wanted to be her when I grew up. We'd meet at a taco joint or one of those ice cream places where you can add ALL the toppings and she'd teach me the trick to jumping into paintings.
Q6: What makes your writing stand out? (Do you write about different cultures, languages, religions, time periods, fantasy worlds?). What do you love most about your books?
My creative nonfiction or fic-informational picture books have facts and humor working together. I hated straight nonfiction when I was little so I want kids to happily turn pages and maybe learn some facts about square wombat poop, or flying lizards, or where humans fit into the animal world while they are at it when reading my works.
What I most love about my books is that they are a single cog in creating a lifelong reader. All kid lit authors and illustrators are on the same team. The team that makes kids happy. The team that brings families closer, even if it is just for a few minutes of the day. The team that opens windows to the outside world and gives mirrors for each child to see themselves. How can you not love that?
Q7: What are your writing goals for this year?
Well, I'd like to write elevendy billion manuscripts and have them all perfect on the first draft, but realistic goals seem to be better so I want to research a few nonfiction things I've been working on and I need to set up some more interviews at zoos. Then I need to polish them until they shine and finish revisions on my upcoming picture book with my publisher. Book news coming soon!
Q8: If you could share one piece of advice with other querying Authors, what would it be?
Elaborate Metaphor:
Do you want a sandwich? Yes. Now what are you feeling today?
Tuna, ham, PB&J, maybe a grilled cheese or egg salad? BLT?
Agents want and need manuscripts, but they aren't going to fall in love with each and every one.
"But they said they needed sandwiches on their wish list!" you say. "Yet, I was rejected."
You will receive rejections, but that doesn't mean you didn't build a gourmet dish. In many cases, especially the 'its not right for my list' rejection, they may have thought your club sandwich stacked up well, but today they were really hungry for a sloppy joe.
All this to say: Don't take rejection personally. It's hard. The MS is your baby. But it is still a product that an agent needs to sell and it has to appeal to their current tastes and to what can be sold to the current market.
Q9: Which trope in fiction do you dislike the most, which do you love?
I love trapped on a mountain/in a desert/on an island survival stories! Especially when the characters aren't survival experts.
I really don't like the fake date/spouse/boy or girlfriend. I like some books that have it, but I just can't like that part of the story. I can't even tell you why, it just bugs me.
Q10: If you could explain your career in one GIF or Picture, what would it be?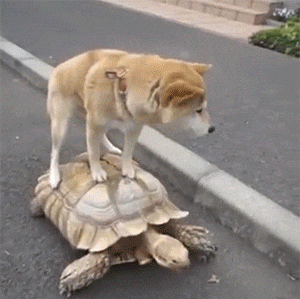 Connect with June:
Please reload
Featured Review
Tag Cloud