New Author Spotlight Interview: Monica Stoltzfus

Monica Stoltzfus
New Author Spotlight Interview


I am a Kindergarten teacher turned Stay at Home Mom turned Picture Book writer. I live outside the Nation's Capital in the suburbs of Northern Virginia. I am a Craft Night Hostess, I started my own Cake Company, and I am a complete night owl.

Q1: Who were your biggest literary influences growing up?
I always loved picture books growing up. But I think the storybook aspect came into play when my Mom would read me a chapter a night from The Secret Garden. I was hooked. I was on the edge of my seat when certain chapters ended. And then again as we read the Chronicles of Narnia together.  I have a wild imagination, and any time it was given free reign to create images in my head while reading... I was a happy
camper.

Q2: Which do you feel is harder as an Author—writing, or querying? Why?

I would have to say the querying part. It is really hard to put
yourself out there. We all think our writing is the best, but to send that email with your best work and hear nothing or a rejection... it's super hard. But it is all part of the learning process. I've grown A LOT through submitting.
Q3: What is your favorite genre(s) to read in your free time?
Picture books! So much talent out there! And devotions. I love a good devotional.

Q4: What book are you most looking forward to reading in 2018?
Am I allowed to say my own book? :O) Because I cannot wait to hold it, and flip through the pages, and read it to my own girls at bedtime. Or anytime.

Q5: If you had to choose 1 literary character to have dinner with, who would it be, and what/where would you choose to go?
Fancy Nancy. I love dressing up, and we could head out to a fabulous Zagat-rated DC establishment and I could brush up on my college-level
French.

Q6: What makes your writing stand out? (Do you write about different cultures, languages, religions, time periods, fantasy worlds?). What do you love most about your books?
I'd like to think that my writing can bridge emotional topics and
slight humor/realism. At least, that's my goal!

Q7: What are your writing goals for this year?
Speaking of, I would love to complete more picture book manuscripts and have them be something my wonderful agent is excited about and can send out to the world of editors. Write, write and write some more. Good stuff :O)
 
Q8: If you could share one piece of advice with other querying
Authors, what would it be?
Never give up ( I know it's cliche) and always be
researching/learning. This industry is an anomaly- in that it is super slow but changes quickly. Be ready for periods of waiting, and use that time to brush up on the craft. Watch a bunch of webinars, take a class, never stop writing.

Q9: Which trope in fiction do you dislike the most, which do you love?
I would have to say, I haven't really found any themes that I'm not a huge fan of. What I do love is the ability to be simple and funny like Piggy and Gerald or The Pigeon... I adore Mo Williams. He rocks. Or This Is Not My Hat... brilliant.


Q10: If you could explain your career in one GIF or Picture, what would it be?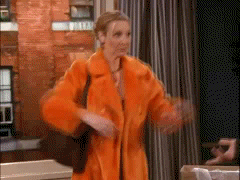 Connect with Monica:
Please reload
Featured Review
Tag Cloud